Pita Limjaroenrat is playing the long game. "Our time will come", he says confidently. Dressed in a crisp striped shirt, the 43-year-old Harvard graduate has a breezy, businesslike manner.
It's almost five months since his reformist party, Move Forward, defied expectations and came top in Thailand's elections. It's been quite the rollercoaster since: legal cases were filed against him and the party, he was blocked from taking office by rivals, and he is now suspended as an MP.
Yet Pita continues to tour the country to keep up the political momentum – going anywhere "except Government House", where his access has been revoked. He has been met by supporters who feel "anger, frustration, with tears on their cheeks", he tells the Guardian in a sit-down interview. "They say they are by my side and they can wait for four more years," he adds, referring to the next election.
Pita says he absolutely wants to run again. He believes he can still become Thailand's prime minister.
He grew up in a wealthy family that has political links – his uncle Padung Limcharoenrat was an aide of the former prime minister Thaksin Shinawatra. He studied at Bangkok's Thammasat university, Harvard and the Massachusetts Institute of Technology. He worked in his family's agriculture business, later becoming the executive director of Grab Thailand, a ride-hailing and delivery app.
Despite his belief that he can become prime minister one day, he is also prepared for worst-case scenarios – including the possibility of the courts banning him from politics, or his party being dissolved. "We are a movement and the party is simply a vehicle," he says. "We have a succession plan. We will continue this journey regardless of the outcome."
Pita points out that time is on his party's side. At 43, he is younger than many of his rivals, including the military generals who dominated Thai politics for the past decade.
'I see myself as common sense'
Pita doesn't speak like a typical fiery activist. His sentences are measured, and at times peppered with corporate-speak: he talks of "scenario analysis" when judging the risks to his party, of "sunk costs" when asked if military-appointed senators will relinquish power.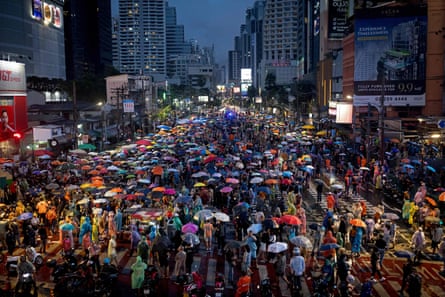 Yet the policies of Move Forward, and its success in attracting voters, have shaken Thai politics. The party has confronted Thailand's powerful institutions – pledging to reform the military, tackle monopolies and, most sensitive of all, amend the lese-majesty law that forbids criticism of the monarchy, once viewed as untouchable.
But the same promises of change that resonated with many voters have angered some of the most powerful forces in Thai society. Conservatives said his plans were too abrupt, and radical.
"Radical is the new normal in Thailand," Pita says. Societal attitudes have changed.
His style of delivery is polished, and has been credited with helping the party expand beyond its core youth support base.
Despite the criticisms of his party's groundbreaking agenda, Pita does not consider himself radical. "I see myself as common sense," he laughs.
"[Among] the top 1% … I think there's this sense of anxiety and of paranoia – and that forces them to do whatever means possible to keep us at bay… and keep the status quo," says Pita.
His desire to amend Thailand's lese-majesty law was cited by military-appointed senators, who have the power to vote on future prime ministers, as a key reason for blocking him. Under the law, criticism of the royals is punishable with up to 15 years in prison. Cases can be filed by anyone, and the law is interpreted broadly – a satirical cartoon or fancy dress can result in jail time. Some of Move Forward's MPs face charges, after taking part in monarchy reform protests.
Pita believes amending the law is necessary if Thailand is to remain a constitutional monarchy. "[We want] to depolarise it, to keep the monarchy above politics," he says.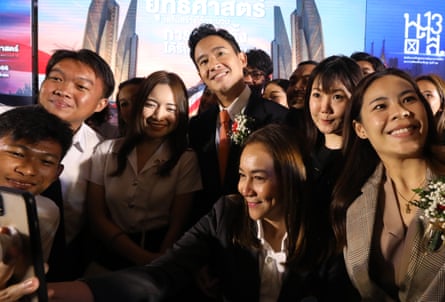 "The later we wait – it's like a ticking timebomb, in the sense the younger generations will ask for accountability or transparency. They want a truly democratic system … The sentiment of the era has changed."
Lese-majesty was not the only reason he faced opposition. His desire for Thailand to support a "rules-based order", to decentralise power and wider economic reforms, were considered too much. Some accused him of being pro-western, and even a product of the CIA.
When senators blocked his bid to become prime minister, Pheu Thai, the party associated with Thaksin, joined with its longstanding military rivals to form a controversial alliance. This pushed Move Forward, their common enemy, into opposition.
On the same day Pheu Thai took power, Thaksin, who has long lived in exile to avoid legal charges, returned. Many speculated that a backroom deal was likely made.
Thailand, says Pita, "is a half baked democracy … It's a system of governance that allows elections, but it's institutionalised anti-majoritarianism."
'I have to trust in the process'
Pita hopes to return to parliament soon as leader of the opposition, but remains suspended over claims he breached election rules by owning shares in a defunct media company. The company has not operated as a media business since 2007, and, Pita adds, his stake is minute (0.0035%) and would not have granted him influence. If he loses the case, he could face up to 10 years in jail and a 20-year politics ban.
Separately, Pita and Move Forward face a complaint alleging their policy to amend lese-majesty is tantamount to seeking to overthrow the constitutional monarchy.
"I'm very confident both personally and professionally of my evidence," says Pita.
Is he confident the court will handle his case fairly? Move Forward's predecessor, Future Forward, was dissolved in 2020.
He pauses, and chooses his words carefully. "I think I still have to have trust in the process."
For now, he believes the likelihood of the party being banned is low. "We're not afraid of it. But we are not careless."