| | |
| --- | --- |
| The origin | Matichon Daily Newspaper page 20 |
| | World Update column |
| Publish | |
Hungarian family Take advantage of COVID-19 by cruising around the world
There is always an opportunity in every crisis, and the COVID-19 epidemic It offers an opportunity for a Hungarian family of 4, parents and 2 daughters to live on a cruise around the world. Mr. Domongos Bosac Dad, 48, had a dream, but never had a chance to take action.
The joyful and exciting adventure of the four lives began at the end of June 2020 when the whole family set out on a 50-foot boat called "Teatime" According to the behavior of the family who likes to sit, drink tea and talk to each other From the port in Croatia Cruise to Italy, Spain and stop at Cape Verde in Africa.
Before sailing across the Atlantic Then stop by to celebrate Christmas at Martinique. Islands in the eastern Caribbean In the Windward Islands Overseas provinces of France And then docked at the marigot On the island of St. Martin. To wait for the next cruise on the Panama Canal, Panama
"For me, this is a wonderful experience that I have had the opportunity to spend time with my children. Instead of working tiring, come home late at night, "Bo Zac, the head of the IT family. But now can work from aboard Tell and tell about the shipping route that was planned
"Our path is fairly flexible. It depends on the climatic constraints along the route we will go, such as hurricanes. Or in front of the monsoon season Which is the limitation for cruising to each region "
Bosac said that Anna His wife has been a sailing expert for more than 10 years, and both he and his wife have long wanted to cruise together. Before the COVID-19 pandemic, but this great crisis finally cut his heart. In particular, he had the opportunity to speak with Jimmy Cornell, a Romanian-born British yacht navigator. Which has a legendary reputation Has an influence on the way to travel this trip
The father of two said Since leaving the boat The most frightening challenge I have faced is A 6-hour storm cruise across the Atlantic Which they can manage to pass well Only one toaster and a satellite cell phone lost.
Upon reaching various destinations, Bozac said they had taken measures to prevent COVID-19. Of each country Including being tested for the COVID-19 virus And go into detention If necessary
"When we arrived at Martinique We told the officer that we had been at sea for 16 days and the officer admitted that it could be detained. "
As for food supplies In the boat there will be food Snacks kept enough for 1 month. Also, they also fished tuna for cooking. This was a very exciting experience for my daughter aged 8 and 6 years old. In addition to distance learning via satellite, children have the opportunity to attend classrooms in local schools. To learn a different culture as well
Anna recalled that this trip Makes her feel very free "We have seen dolphins jumping on the bow of the boat. And swim with our boats in the calm sea And the water is so clear that we can clearly see the dolphins "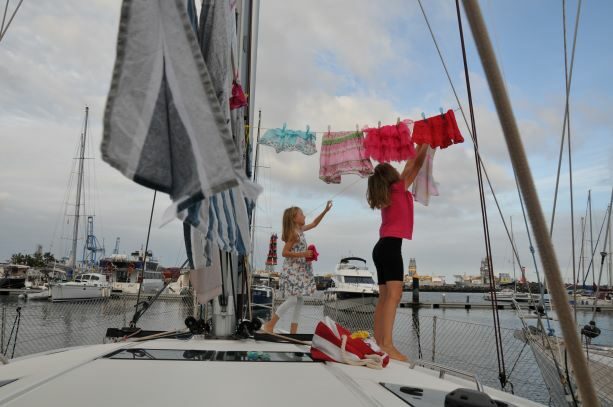 From the epidemic situation of COVID-19 Still, Anna says her and her family's cruise plans may last from this year to the next. Or maybe the next 5 years will continue to cruise to the Pacific Ocean. And the Indian Ocean
Anyone interested can track their journey through sailingteatime.com